Skip to Content
Kitchen & Bathroom Remodel Materials Supplier
Tops Kitchen is your premier kitchen and bathroom remodel materials supplier in Atlanta and Miami. If you've started the process of remodeling your kitchen or bathroom, our team is your go-to to get the job done right. Our superior inventory and dependability mean that you will always get a top product and the most detailed customer service possible. As a family-owned business, we know the importance of treating every customer right because we know that happy customers are repeat customers. We encourage you to learn a bit more about the products we offer and contact us to get started on your kitchen remodeling project.
Quality Kitchen Products
Our team at Tops Kitchen specializes in everything you need for your kitchen remodel, including kitchen cabinets, quartz countertops, granite countertops, cabinets, and more. We sell our products at wholesale prices to pass the savings on to you. Learn more about the following products we offer for homeowners in the Atlanta and Miami areas:
Sinks – We offer sinks in many styles and sizes and use only high-grade materials. Our kitchen sinks are finely crafted, and we offer single, double, and triple bin sinks. We also have deep bin kitchen sinks, and all of our sinks are backed up by one-year warranties.
Handles – Your cabinetry's handles might only be a small detail, but they're one that can make your work stand out. Tops Kitchen offers a wide range of handles for fixtures that look great in any kitchen. They're fabricated in-house and built to last a lifetime. Get a handle on value with a wide range of remodeling products and service you can count on.
Kitchen Cabinets – The number one remodel your customers will want is kitchen cabinets, hands down. New cabinetry is one of the easiest ways to create a new kitchen's look. Our cabinets are manufactured in-house by local artisans. We offer luxury cabinetry and custom designs at factory-direct prices.
Granite – Countertops make all the difference, and we're proud to offer the finest granite countertops available. We have a wide selection of granite countertops available in many colors and natural hues to complement any kitchen. Our team will precisely cut and fabricate them to your exact measurements. Our natural stone surfaces are durable and make a great addition to any kitchen remodel. When you choose Tops Kitchen, there are no middlemen, so contact us today.
Quartz – Homeowners love quartz countertops because they look great and are easy to care for. Whether you're redoing your own kitchen or have been contracted for a single kitchen remodel, choosing quartz countertops means a sleek finish, chip and crack resistance, stain and heat resistance, and durability against wear and tear in a huge variety of colors and hues.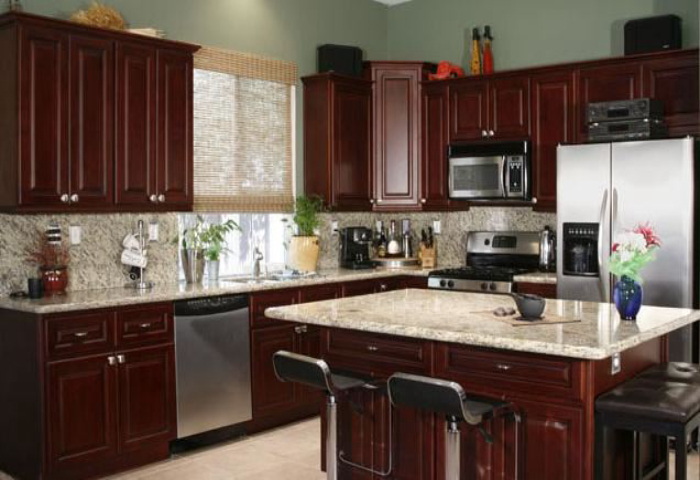 Wholesale Price from the Manufacturer
Don't let your next kitchen or bathroom remodeling project happen without getting your materials from Tops Kitchen & Baths. You won't be disappointed in our selection or price on top quality wholesale countertops, kitchen materials, cabinets, and more!
Start Your Kitchen Remodeling Project Today
At Tops Kitchen, we're proud to offer top-quality products at rock-bottom prices. We know that remodeling elements of your home takes careful planning. A kitchen or bathroom remodel can be a stressful and expensive experience, and many homeowners end up looking for shortcuts to save money. When you get your products from our team, you'll save money without sacrificing quality. With no middleman, we can pass the savings on to you. We offer nationwide shipping for our wide selection of products with wholesale prices. You can count on us to be your remodeling experts from start to finish. You can stop by our showrooms in Stone Mountain or Miami to see our wide selection of cabinets and countertops. Our team has experts who can help you in English, Spanish, and Chinese. Contact us today to get started!
Call Us Today for Your Kitchen Remodeling Project!